IEWG shall:
• provide an international and ecumenical organisation for those who work in Churches with pastoral care, education and diaconal work among Deaf People.
• provide regular training opportunities through conferences, seminars, workshops and other appropriate means
• encourage and extend ministry among Deaf People by exchanging experiences and information, and by providing opportunities for instruction and advanced training for those involved in Deaf Ministry, especially in mission areas and developing countries.
• share and exchange information and ideas primarily through the organisation's web-site.
IEWG works to:
• advance the right of deaf people to take a full part in the life and leadership of the Church.
• encourage and enable deaf people to speak on their own behalf and encourages them to teach and guide members of IEWG, hearing churches and society, and to help others understand the language and culture of the deaf community.
• promote the right of deaf people to use sign language in the Church, particularly in liturgical settings.
 • encourage the provision of properly trained pastors, catechists and deacons among deaf people.
The IEWG as an association
consists of representatives from different countries and Churches.
Current representatives:
Chair:  Roar Bredvei   (Norway)
Vice Chair:  Tuula Mertanen (Finland)
Members: 
Tuula Mertanen (Finland)
Hendrik Korthaus (Germany)
Christina Ebbesen (Denmark)
Gill Behenna (UK)
Sigurdur Hafthorsson (Sweden)
Administrator: Michael Hoffmann 
Members oft the IEWG are persons on behav of churches, religious groups and denominations.
Denominations represented in the IEWG association: 
Lutheran Church of Norway
Lutheran Church of Finland
Lutheran Church of Sweden
United Church of Germany
Catholic Church of Italy*
Anglican Church of Northern Ireland*
Anglican Church of England
(* vacant at the moment)
Administrator: Michael Hoffmann
What does IEWG mean?
I=International
E=Ecumenical
W=Working
G=Group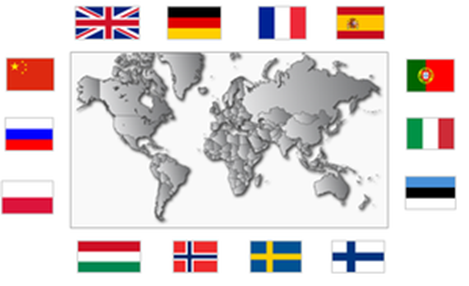 The IEWG was founded over 50 years ago.
Our goal is to unite pastoral care for deaf people within Christian churches. To facilitate opportunities for mutual exchange. To offer biennial conferences, symposiums. To advocate and promote new ideas.
By founding in 1940 or in the beginning of the 1950th, the IEWG was named IÖAK ("International Ecumenical Working Group of pastoral care for deaf-mute people"). The renaming happened before few years. Moving spirits by founding where the Scandinavians and the Suisse in person of Eduard Kolb. By and by the Americans supervened, from the Missouri Synod to Gallaudet College. The chairman of the German Working Group became member too. The goal was, to support work form deaf people from all over the world. Very soon, the German Catholic Church was interested. By and by the polish Catholic Church supervened. A great advantage was the ecumenical international work, so that, for example people from DDR are allowed to come, wherever a conference was, with the exception of West-Germany. So all conferences were outside of Germany.
Soon, the work extended to Africa, Tanzania, Eritrea, Ethiopia, Kenya and many more African States. Furthermore, the Work came to India and South-America.
 Then, when Mermod from Genf should take the lead, he died by an accident. The great convention in Genf 1075 he could arrange already. Meanwhile Monsignor Römer of the German Catholic Church could take the lead and the Catholic Church has spent a lot of money in the work, mainly in East-Europe. The next convention was in Bulgaria by the black sea (1979). The next great convention after that was in Vatican 1983. The great conventions are always subsequent to the World-Meetings of the Deaf, what happened all 4 years. 1987 it was in Turku (Finland). 1991 it was in Washington. Then the work paused a while and was rediscovered for a few years.
1.      1979 Varna
2.      1983 Rom
3.      1-6 September 1986 in Jesus College, Oxford
Theme: 6 lecturers spoke on the work of "Die Mitwirkung der Commission on Spiritual Care," and on the 25 years history since the founding of IEWG.
4.      1987 Turku
12 September 1990 in Kappel, Switzerland
Theme: "Biblisch-theologisches Menschenbild im Spannungsfeld der Ganforschung und Gentechnik."
5.      1991 Washington
6.      8 September 1992 in Slagelse, Denmark
Theme: "Die Arbeitslosigkeit der Gehörlosen – ihre Ursachen und Folgen."
7.      22 September 1994 in Canterbury, England
Theme: "Es ist unsere Aufgabe, gehorlosen Menschen zu helfen und sie zu ermutigen, ihre angemessenen Rechte und Pflichten in ihrer Kirche wahrzunehmen." 
"To consider the true place of deaf people in the church and help and encourage them to take it."